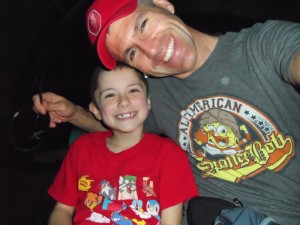 .
HeLLo World !  I'm Eric Vaiksnoras, a 38-year-old Young Widower of 7 years, who's barely hanging onto the "young" part of the "young widower" label!  (When is it that I become an "old widower" anyway?!  Wait, don't answer that, I'm afraid to know!)  So what brings you here?  Whatever the reason, whatever the loss (job, pet, girlfriend/boyfriend, fiancé, spouse, family member, etc), I'm glad our paths crossed, and I want you to know that you're very welcome here.  Grief is Tough, whatever form it comes in — and it seems that we are all grieving something — so if you'd like to be a part of this blog, then I'd like you to be a part of this blog!  The more the merrier!
And to keep it merry (!)…please play nice.  This website was created to be an empowering place where people take care of each other.  Grief has left many of us in a hyper-sensitive state, so being kind to one another is extra important here.  Thank You for doing your part in keeping this a safe and welcoming place.
Wanted:  Your comments.  Your comments are what will bring this website to life!  The real power of all this is not in what I have to say, but the power comes from you, the reader.  I am but one person with limited influence, but if I join hands with you, and we join hands with others, that's where the real power is formed.  We become a collective, unstoppable, wave of healing.  Please consider sharing your reaction to what you've read; allow your valuable experiences to become a part of anyone who reads this.  Share your messages of hope and love.  Add to the momentum.  Share what drives you, moves you, keeps you going.  Share your pain.  Share whatever it is that connects you to what you've read.  I want to hear about it.  And I'm certain others do too.  Rise up and make this website the powerful thing that it can be.  Share your greatness.
Eric V
an invitation to you…
Please introduce yourself.  What brings you here?  Share anything you'd like.  What makes you smile?  What makes you laugh?  What gives you hope?  
If you've read any part of my book and have a comment to make (or if you'd like to read the comments of others) — Great! — your valuable experiences are needed!  Comments can be made here within this page, Or at the very end of each book chapter.  
I want this to be a place you feel comfortable returning to; a place that you'd tell a friend about.  If you have any constructive comments, I'd love to hear from you!  Do you like the website?  If so, what do you like about it?  Do you have any suggestions to make it better?  Do you have any suggestions for future blog topics?
.
.
CLICK HERE FOR ONLINE VERSION OF BOOK
CLICK HERE FOR NEW PAPERBACK VERSION OF BOOK
SEARCH BLOG ARCHIVES FOR ADDITIONAL BLOG POSTS
FEELING GRATEFUL OR LOW? SIGN THE THANK YOU CARD
.
Connect on Twitter: @EricVaiksnoras
Connect on Facebook: @HoneyIShrunkTheGrief
.